Regular price
$169.90 SGD
Regular price
$187.90 SGD
Sale price
$169.90 SGD
Unit price
per
Sale
Sold out
Product Description
【Authentic Pahang Musang King – 正宗彭亨的猫山王】5x 400g
Often labelled as the "Most Exotic Ever", our Pahang Musang King is so rich, creamy and addictive. It is like the Arabica of all coffees! Due to the long journey from its source and very limited supply in nature, we will recommend ordering in advance at a time-slot of 6 – 9pm / 8 – 11pm for the freshest supply.
Our SAME-DAY-DELIVERY time-slot are as follows;
2pm – 5pm | 5pm – 8pm | 8pm – 11pm
Please select your preferred time during checkout. Ordering in advance are welcomed too.
猫山王 – 5盒 400g 【正宗彭亨】
彭亨猫山王绝对是榴莲中的好货!浓厚猫山王香味一定会是所有榴莲爱好者必爱的口味。这是人生必尝一次的品种, 看评语就知道味道真是绝了。 由于长途送货来自彭亨 – 建议送货时间设为 6 – 9pm / 8 – 11pm 已吃到当天下来的彭亨猫山王
今天下单我们今天送到你家!送货时间于
2pm – 5pm | 5pm – 8pm | 8pm – 11pm
*Photos are solely for illustrative purposes.
Share
View full details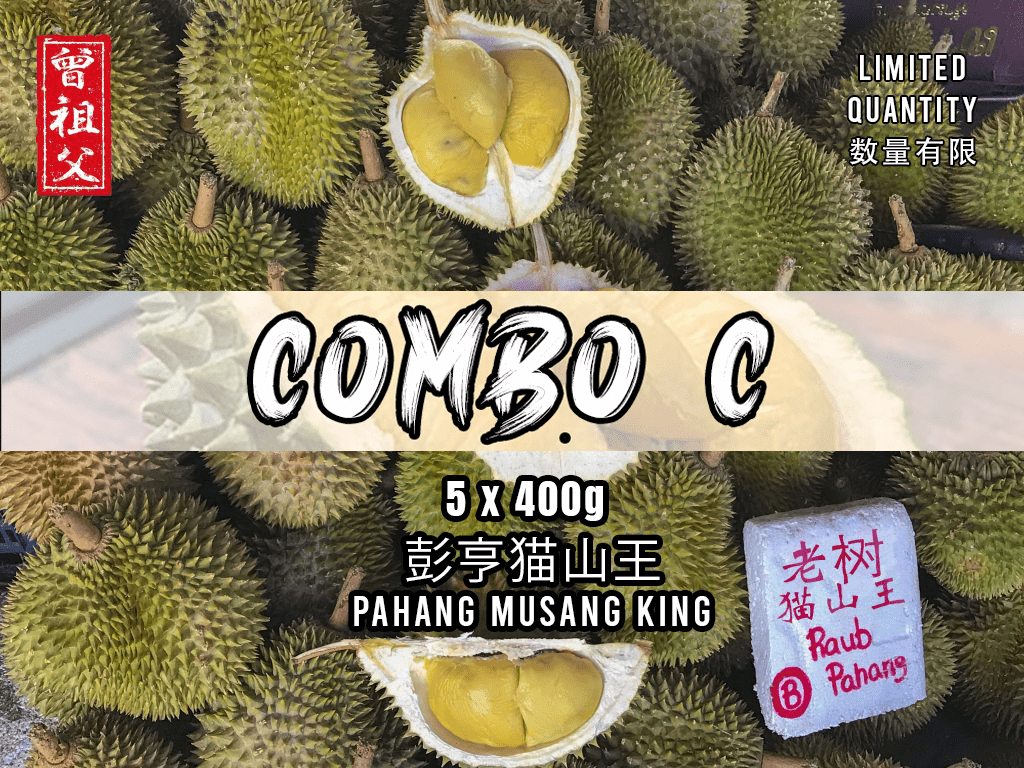 Very good durians
Ordered the combo c, which is the pahang musang King durians. It was excellent! Very rich and creamy meat with small seeds. A little pricey but it's def 100% worth it!! My family loves them, will order again soon!!
Thick and Creamy
Ordered this bundle from Trix, delivery was on time and it was one of the best i have ever tried. Photos speaks no justice of how nice it actually was. Will order again for my clients.
Repeat customer keep coming back for more
First time trying Pahang and it was delicious!
(Y)
My family and I liked it. Will buy again when my wife craves for it
Pahang Musang King
Tastes is extremely creamy and rich.. Value for money, first time eat such a nice Mao Shan Wang